Background
Our client (we'll call her Sue, not her real name) called me to organise a painting job to commence whilst her son-in-law (yes you read that right – her son-in-law not son) was overseas. She wanted to surprise him together with her daughter (his wife) with some freshly painted rooms in the house.
We booked in the painting and I inspected 2 days prior to starting (once he had left the country).
The Quote Appointment
During the quote appointment Sue showed me the hall. This wasn't initially going to be painted.
All was going well and we were discussing maybe painting the woodwork in one coat to freshen it up. I then noticed the woodwork was peeling in parts and they showed me an area in the middle of a door that was peeling (see our first photo). I put my fingernail underneath the peeling paint and it just stripped off. I then ran my nail down an architrave and the same thing happened. The paint underneath was glossy and very smooth.
The same thing was happening with the skirting boards – see our second photo.
It was evident the paint was not adhering. I asked Sue's daughter Jane (again not her real name) if she sanded when painting. She confirmed they painted straight over the old paint without sanding.
I then explained we would need to strip the unstable paint and start again. We had gone from quoting for a one coat "freshen up" to having to strip paint and apply 3 coats. This affected 6 doors and architraves, front door surrounds and skirting boards. The cost was significantly more than it would have been if Jane and her husband had sanded prior to painting.
What did we do?
When the painters started the project they tested the paint to see how easy it was to remove. It was coming off so easily we decided the best way to remove the paint was to use a thin blade painting tool (see third photo) on the flat parts of the architraves, doors and skirts. We then used an electric sander attached to our dust extractor to sand those same flat areas (see fourth photo). The great thing about our dust extractor is that is vacuums the paint and dust straight from the sander minimising dust in the room.
With the moulded areas we hand sanded. The paint on the mouldings stuck and for the most part we couldn't remove it. See our fifth photo of a door and you will notice most of the door is the peachy colour and the door mouldings are white. This door had been mostly stripped at this stage.
The next issue was the white paint wasn't going to cover the existing colour in 2 coats as we had quoted for. We discussed this with Sue and agreed to apply 2 coats of oil-based undercoat and one coat of oil-based paint. This system provided a good stable base and the best method for colour coverage. Usually we would paint in 1 undercoat and 2 top coats – it just wasn't going to provide the required finish in this instance.
This isn't what we had planned to do initially and had to change our approach to suit the circumstances.
Our final photo shows a finished door – we also tested it a few days after painting to ensure the paint was adhering which it was.
The Lesson for all Painters
Prepare all surfaces prior to painting!
Wash grease, nicotine and any substances not compatible with paint and then sand to a smooth etched surface to ensure paint adheres and will cope with the bumps it will receive in its lifetime.
About Women at Work Painters
Women at Work Painters has been operating for over 20 years in Melbourne and we can be trusted to do what we say we will. You can visit us at: https://www.womenatwork.com.au/
On our site you will find great photos of previous interior and exterior painting, some videos and a project page for commercial projects. You will probably be surprised at the projects we tackle.
One of our stand out projects has been painting the Melbourne Athenaeum, a fabulous heritage building in the Melbourne CBD. We were awarded an Excellence in Painting Award for this. For more information on this project please click here.
If you would like a quote for painting please call us on 1300 200 700 or complete our Free Quote Request Form here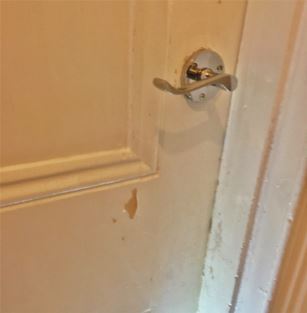 Paint peeling on door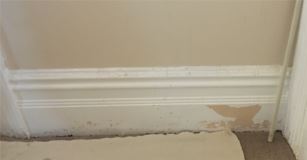 Paint peeling on skirting board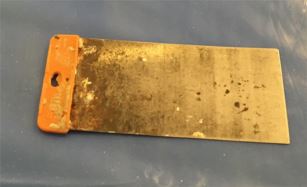 Painters Blade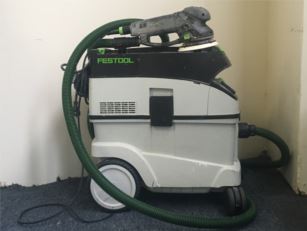 Dust extractor & sander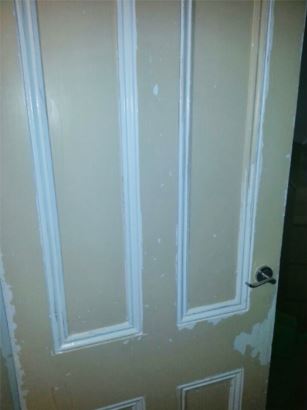 Partially stripped door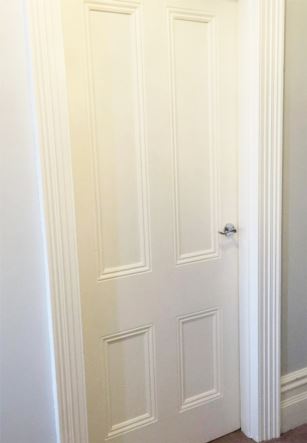 Finished door and architrave