We have recently helped one of our clients prepare their house for sale by painting some interior rooms to freshen up the property.
The address is: 40 Campbell Grove, Hawthorn East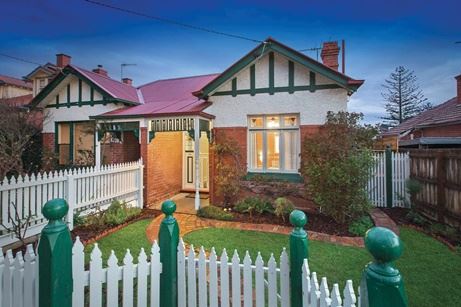 Spacious Edwardian Cottage in Lifestyle Location. 3 bedrooms House for Sale. Contact Agent. 40 Campbell Grove Hawthorn East Vic 3123. Listed by Marshall White – Hawthorn. Features: Garage Spaces.
As you can see this is a beautiful period home with many ornate features.
Rather than paint the entire house we only painted areas that required painting – you don't need to ask us to paint everything, just items that you would like to have painted. We can also advise as to what does and doesn't need painting.
With this house we painted the kitchen/dining room and then various ceilings, walls and woodwork throughout the house. We also touched-up small areas on the exterior of the house.
This house was already in very good condition so little work was required. With other houses that have not been painted for some time or where there have been leaks or cracks, significantly more work is required. Often when people sell their home a full repaint may be required especially if the colour scheme needs updating and brightening or changing to appeal to a broader market to assist with obtaining a greater sell price.
There is so much money at stake when selling your home and presentation is the key!
About Women at Work Painters
Women at Work Painters has been operating for over 20 years in Melbourne and we can be trusted to do what we say we will. You can visit us at: https://www.womenatwork.com.au/
On our site you will find great photos of previous interior and exterior painting, some videos and a project page for commercial projects. You will probably be surprised at the projects we tackle.
One of our stand out projects has been painting the Melbourne Athenaeum, a fabulous heritage building in the Melbourne CBD. We were awarded an Excellence in Painting Award for this. For more information on this project please click here.
If you would like a quote for painting please call us on 1300 200 700 or complete our Free Quote Request Form here